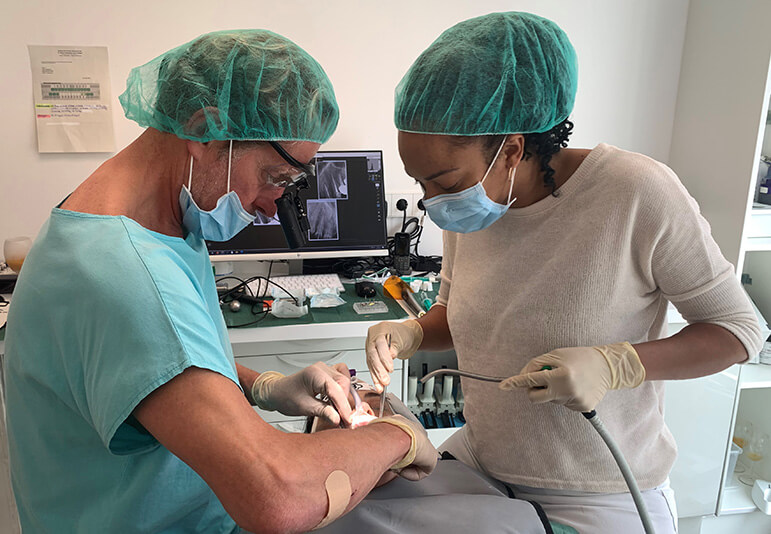 It doesn't matter if you want to remove your wisdom teeth, do bone augmentation for placing implants or if you wish to correct your "gummy smile". Smileforever is your contact for comprehensive oral surgical measures. We are pleased to be again in the top 10 of the "Oral surgeons in Munich".
What is oral surgery?
Oral surgery is a specialty of dentistry. The spectrum of oral surgery is broad and very complex. It comprises all surgical interventions involving the oral cavity and the jaw bone.
This includes the following
Tooth extraction
Wisdom tooth extraction
Sinus lift
Bone augmentation
Root tip resection
For us at smileforever, it is particularly important not to lose sight of dental and orthodontic points of views; therefore you get a comprehensive range of services just from one source. We have extensive know-how and practical knowledge due to continuous training and further education and also professional experience of more than 25 years.
Contact
Do you have further questions concerning dentistry or do you wish a consultation appointment at our private dental office Smileforever in Munich? Call us or please send us a message on our contact form.
smileforever - Your Dentist in Munich
Consultancy practice for implantology
and treatment under anesthesia
Theatinerstraße 46
80333 München
E-mail
dr.desmyttere@smileforever.de
Telephone
+49 89 34 69 97
Opening Hours
Monday - Friday: 08.30 am - 06.30 pm