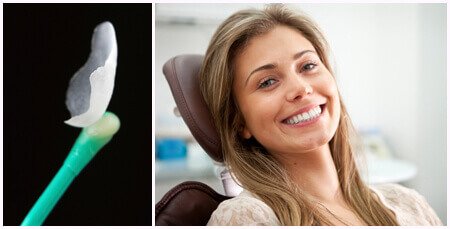 Are your anterior teeth affected by dental cosmetic defects and prevent you from a beautiful smile? Do you wish to have beautiful teeth that look healthy and naturally and give you a fresh appearance? Then we may help you. Smileforever is experienced in full ceramic restorations, particularly in the field of anterior teeth aesthetic.
It doesn't matter if you have tooth spaces, tooth alignment, discolorations, too short or too long teeth or teeth with slight or bad structures. Veneers are the perfect solution in all these issues.
After an extensive consultation and a detailed examination- especially your individual bite situation and functional conditions - we create a treatment plan for you with the aid of the results and individual models.
We systematically develop a model using this method where you can see in advance what it looks like after the treatment.
What are Veneers?
Veneers are wafer-thin, slightly transparent ceramic or plastic bonding shells which are applied to the anterior teeth. The advantage of Veneers is hereby that the dental substance can largely be preserved. Non-vital teeth that turned dark in color can bet treated successfully. Also tooth spaces, misalignments and teeth with slight or bad structures can be treated by applying this method. Also lost anterior tooth guidance can be corrected substance-friendly.
The press often refers to different types of Veneers such as Non-Prep Veneer or minimal invasive methods. In this process the tooth is not dissected (Non-Prep) or only slightly (minimal invasive) dissected, in order to attach a Veneer. You have to find out the method that is the most suitable for your case, because it differs from person to person. It may be necessary to use different techniques in your dental arch to achieve a perfect result. In order to be able to find that out you have to see a specialist with a lot of experience.
Process of the treatment
After an imprint of your teeth, ceramic covers are adjusted to the patient's needs. The method of applying Veneers is done in a very gently way. Veneers are fixed on the teeth with special glue and make sure to avoid damaging to the teeth and guarantee a long-lasting durability as well.
Advantages of Veneers
They save the tooth substance
Plaque do not adhere on the ceramic surface so the color remains permanently stable
They are biocompatible; that means they are very well tolerated and extremely durable
No other tooth restoration offers such an excellent aesthetic and naturalness
They are flexible at use – according to your needs
Contact
Do you have further questions concerning dentistry or do you wish a consultation appointment at our private dental office Smileforever in Munich? Call us or please send us a message on our contact form.
smileforever - Your Dentist in Munich
Consultancy practice for implantology
and treatment under anesthesia
Theatinerstraße 46
80333 München
E-mail
dr.desmyttere@smileforever.de
Telephone
+49 89 34 69 97
Opening Hours
Monday - Friday: 08.30 am - 06.30 pm